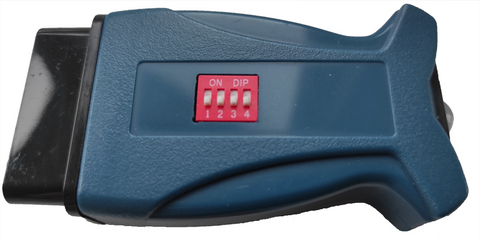 Ford Transit Mk8 Late Model Key Fob Programmer Kit
NOTE : This unit will  program keys to vehicles that have an active alarm , but will require a wait time of 20 minutes!
If you are attending a vehicle that has been locked with a valid remote and you need to gain entry without that remote the alarm WILL be active even if not sounding.
This kit contains a number of blank remotes and simple plug and play device for adding spare remotes to your MK8 Late model (2016-2019) Ford Transit Van. It is supplied with a number of new remotes but can also be used to add standard non remote keys too.

The unit has a set of dip switches to select one of the three modes it operates in, which are :

1. Check number of current keys/remotes programmed.
2. Add key/remote.
3. Delete all currently programmed keys/remotes.
Just turn on the ignition with the key/remote you wish to program, Plug the unit into your vehicles OBD socket , wait for the beep/blue light and cycle the ignition and in under 30 seconds your key/remote is programmed.
 You can see a video of the unit in action here :

---
We Also Recommend